[ REVIEW ] HipStreet HS-M700 Multimedia EReader
Thursday, May 5th, 2011
Initial Thoughts
Nowadays, value is one the most important factors when shopping for any new gadget.  At a price of $79.99, the new HipStreet HS-M700 multimedia eReader is a multifunctional, budget friendly device.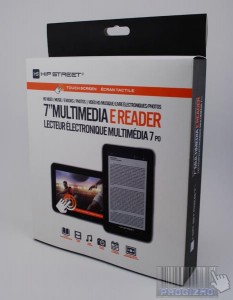 In terms of overall build quality, the choice of plastic is cheap, but acceptable.  The flat black on the HS-M700 works well with the design and is resistant to finger prints, however the inconsistent feel on the main buttons along the bottom of the device feel poorly quality controlled.
The viewing angle is very limited and the resistive touch screen is slightly non-responsive.
The manufacturer has stated on the box that the unit is capable of "720p HD Output" but the screen resolution is 800×480, which is far from HD, and there is no external output for video, such as HDMI. So, we believe that they are stating the fact that the unit can PLAY HD content, but the wording is very misleading.
Ebook Reader
The primary purpose of the device is advertised, and would have been assumed to be, an eReader. Surprisingly, this is where the HS-M700 falls short.
You have no ability to change the font style, jump from chapter to chapter, or skip to a specific page.  Holding down the "next page" button does not make the pages quickly flip. You have to release the button and press it again, which could get tedious if you are trying to get half way into your 400 page book. To make page navigation worse, the page turns are very slow. There is also no ability to organize books making it a nightmare if you have hundreds of them stored on the devices' memory.
The default color choice is black text with a white backdrop with the ability to scroll through 5 additional colour schemes.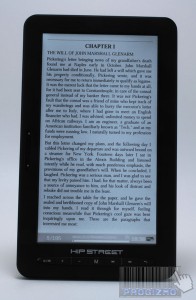 Video Player

It seems that the HS-M700 should be advertised as a video player first and foremost, with the basic functions of an eReader coming second.  Video playback is very good with excellent color representation, no motion blur, smooth menus, and very quick time seeking. Colour vibrance has room to improve, but the overall video experience is a positive one.
Two speakers at the back of the device provide ample audio but would be better suited at the front.  There are dual headphone jacks providing two users with their own individual headsets.
Music Player
The built in music player has the added benefit of multitasking with other applications during playback.  Output volume is more than enough in a quiet room, however the GUI of the player is very simple with only the most basic playback controls.  There is a built in equalizer, but every EQ preset we tried out sounded worse than the default.
The HS-M700 also comes with a calendar and voice recorder, but again, these features have very basic controls, making them all but useless.
We tested the HS-M700′s battery life using video playback at full brightness and max volume. For such a small, inexpensive device, the results were pretty good.  Playing a sample .avi file on a continuous loop had the battery lasting approximately 4hr : 45min.
Conclusion
Overall the HipStreet HS-M700 is a budget friendly device that's great for video playback but lacks many of the features and functionality of a comparably priced eReader. If you are looking for a media player, at a price of $79, this device cannot be beat. Although, the purpose this unit is primarily marketed for, the eReader operation is less than impressive.
Rating: 5.5
Specs
7 inch TFT (800 x 480) Touch-Screen LCD
4GB Internal Flash Storage
Internal Speaker
Dual headphone jacks
Built in rechargeable battery
MicroSD card slot, up to 16GB
Video Formats: AVI, MPG, MKV, MOV, RMVB, RM, DAT, FLV VOB, and 3GP
Audio Formats: MP3, WMV, WAV, FLAC, APE, AAC, OGG
Photo Formats: JPEG, BMP, PNG, GIF
eBook Formats: PDF, TXT, HTML, EPUB, FB2
Don't forget to Follow us on Twitter and 'Like' us on Facebook!
Share a link to this post!
Title:
HS-M700 Multimedia eReader
Company:
HipStreet
Launch Date:
April, 2011
Author:
P.Soscia - Progizmo
Check it out on HipStreet